https://www.nstlaw.com/guides/workplace-safety-in-missouri/
Workplace safety should be a high priority for employers operating Missouri businesses. The risks of employee injury are present everywhere, and no employer wants an employee getting hurt on the job and taking civil actions for money compensation. If evidence shows that there was insufficient work training for the job, the plaintiff, or injured employee, could sue the defendant, or employer, for reimbursement of medical bills – if the employer was grossly negligent of employee safety, they may even face punitive damages. Thankfully, employers can employ methods to decrease worker injury and properly respond to them when they do occur.
This workplace safety guide will provide you with the information employers and employees need to prevent hazards and unsafe conditions in your workplace, creating greater protection for the company and employees.
COMMON CAUSES OF ACCIDENTS IN THE WORKPLACE
There are a variety of accident causes in the workplace, many of which are easily preventable by proper order and conduct. Accidents occurring at work are often due to one of the following:
Overexertion – this occurs when a staff or worker's responsibilities include physical labor, and they work long days or nights without much time for breaks. The overexertion could be from a single incident, such as moving a shelf full of books in the office, or it could be a result of such motions that are repetitive, like using a cutting machine at a butcher shop or installing heavy tires on a car construction line. Overexertion can lead to long-lasting physical damage for individuals, especially when it is brought on by repetitive motion. Thus, it is very important that workers engaging in duties likely to bring on overexertion be properly trained on equipment use and be allotted adequate break opportunities. Injuries that result from overexertion can lead to major issues and hefty medical bills. Employers should provide employees with the support they need to prevent overexertion.
Slip and falls – A slip and fall is the result of a worker losing his or her balance on an unreliable surface, such as a wet floor. A fall can be serious enough to result in soft tissue damage, a traumatic brain injury, or even broken limbs. Like overexertion, slip and falls are preventable. Employers should take care to keep work areas clean and safe, monitoring them regularly.
Workers being struck, squeezed, or crushed by machinery or equipment – This type of injury occurs when machinery or equipment malfunctions during employee use. Alternatively, this may happen when the conduct of an employee is with flagrant disregard for proper machine use. Employers can reduce this sort of injury by providing sufficient training, including ongoing training.
Another common type of workplace accident are those involving vehicles. Whether it is a car, large truck, or machinery such as a forklift or crane, these machines pose a significant safety risk due to their size, motion, and weight.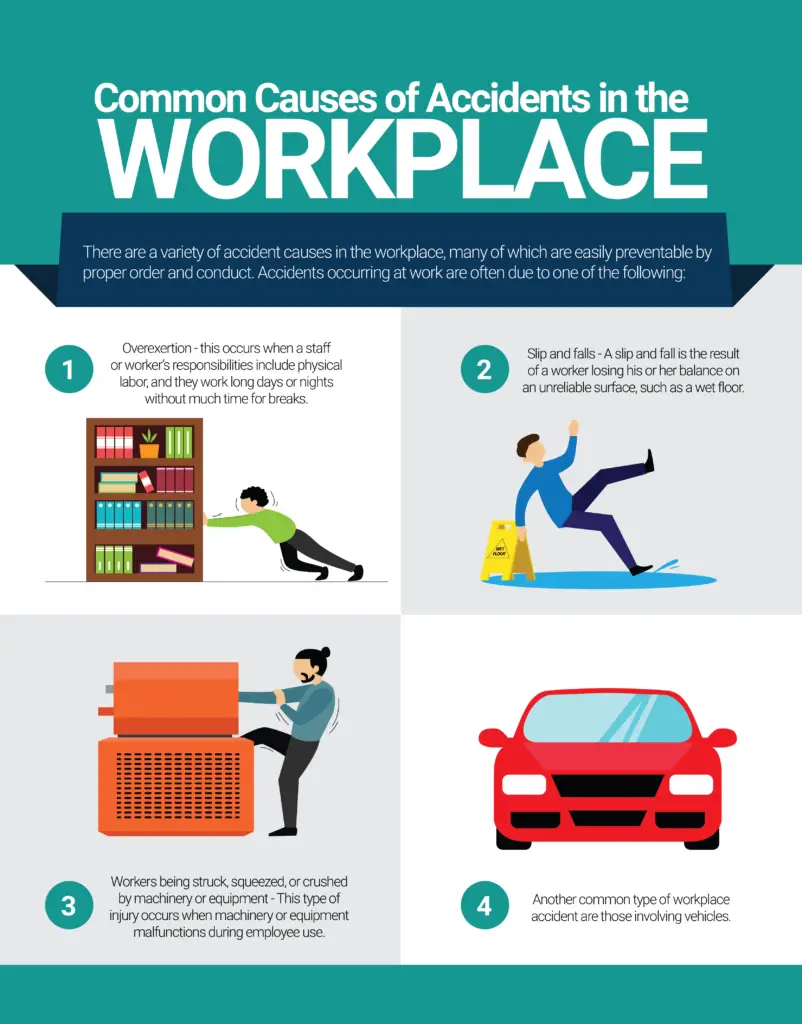 BREAKDOWN BY OCCUPATION
Just as there are common types of workplace injuries, findings show that there are also common occupations that are prone to workplace injuries. This is because the inherent nature of the work increases the likelihood of injury. Some of these industries and occupations include:














According to the Missouri Department of Labor, transportation drivers were the source of over 5,500 injuries while on the job, a dozen of which ended in fatalities. As a highly populated area, Missouri is consistently increasing its workforce of truck drivers, delivery drivers, and refuse collectors to respond to customer demand. However, the more foot and transportation traffic, regardless of how safe the measures implemented are, the higher the likelihood that transportation workers will get injured.
Construction workers have less injuries compared to their transportation driver counterparts. In 2020, construction workers suffered from slightly over 4,000 injuries. Despite this smaller number, twenty of these injuries resulted in death. This is due to the heavy equipment and materials used in construction zones that aren't present in transportation settings. St. Louis was one of the higher injury risk zones for construction workers due to the growing economy in the area. St. Louis is a highly visited tourist spot, which prompts new construction and presents risks to construction workers working on tight deadlines.
Electrical workers and linemen saw no fatalities in 2020 and suffered from under six hundred injuries. This is down by two hundred from 2019, demonstrating an increased emphasis on safety measures in electrical work settings. There has been improved oversight by the city and state with regulations on the industry and internal controls.
Steel, iron, and other lines of work requiring manufacturing of materials account for a large amount of St. Louis reported injuries. While down from 2019, the number of 2020 injuries here totaled just over 12,000. However, the industry did lower the average of injuries that was hovering around the 14,000 per year mark from 2016 to 2019.
Unlike their counterparts listed above, civil workers responsible for public administration and safety have actually seen a rise in injuries since 2017. Injuries in this category of occupation were just under 9,000 in 2017 and exceeded over 10,500 in 2020. Perhaps a factor in these higher numbers is the recent dangers associated with holding some public positions, such as a police officer or firefighter.
STATISTICS OF INJURED WORKERS IN MISSOURI
The table below shows the total injuries in Missouri workplace environments that occurred in 2020. About 9% of the total injuries resulted in employees losing time at work due to the severity of their injuries.
In addition to the statistics laid out above, the following industries were not shy when it came to reporting workplace accidents.
Scientific services – this profession usually includes chemists and physicists who work with chemicals and other structures. Due to the experiential nature of this occupation, injuries can and do occur. However, Missouri scientific service providers have boosted their response tool kit over the years, and the numbers show it. In 2017, just over 3,000 injuries occurred, and in 2020, there were less than 2,000 injuries.
Agriculture and fishing workers – Also a small contender, this field accounts for just over 800 of Missouri's workplace injuries in 2020. In fact, this occupation has only seen five deaths in the last five years.
Health care and social workers – turning the page, these occupations see high amounts of workplace injuries. Uniquely, many health care and social worker injuries don't arise from physical on-the-job activities, but rather interactions with clients. In 2020 alone, nearly 23,000 employees in this industry sustained an injury, with over a dozen of them dying. This fatality rate skyrocketed from 2019, which only had two deaths.
SAFETY TIPS IN THE WORKPLACE
There are numerous ways that employers and workers can stay safe on the job and reduce the risk of accidents. Implementing the following types of policies is not only likely to increase safety on the job but to increase employee morale and productivity:
Develop thorough training programs to use company tools and equipment properly. This may be implemented through employee handbooks and manuals, website video training, and actual demonstrations. This training should be available for those that don't speak the English language. While it would incur a cost, hiring a specialist to come in and display workplace safety measures associated with machine use would be highly beneficial.
Provide employees with a map and walkthrough of facility exit routes. Sometimes employees get injured due to being trapped in a location. It may not be feasible to gather all other employees before seeking safety yourself in such a case, so educating them ahead of time could prevent injuries.
Avoid worker fatigue. Many workplace accidents can be prevented by workers paying attention to the task in front of them. Being overworked, getting little break time, and performing repetitive and mundane tasks can cause injuries. Preventing burnout or working to reduce it is key.
Dress employees appropriately. If an employee should be wearing a hard hat due to the risk of falling objects, an employer should avoid cutting corners to save on the monthly bill. Not only does this increase the likelihood of injury, but it can cost the employer more later on down the road.
Without health standards and policies in place, employees may be subject to serious hazards. Therefore, a safety program is necessary to create a safe workplace.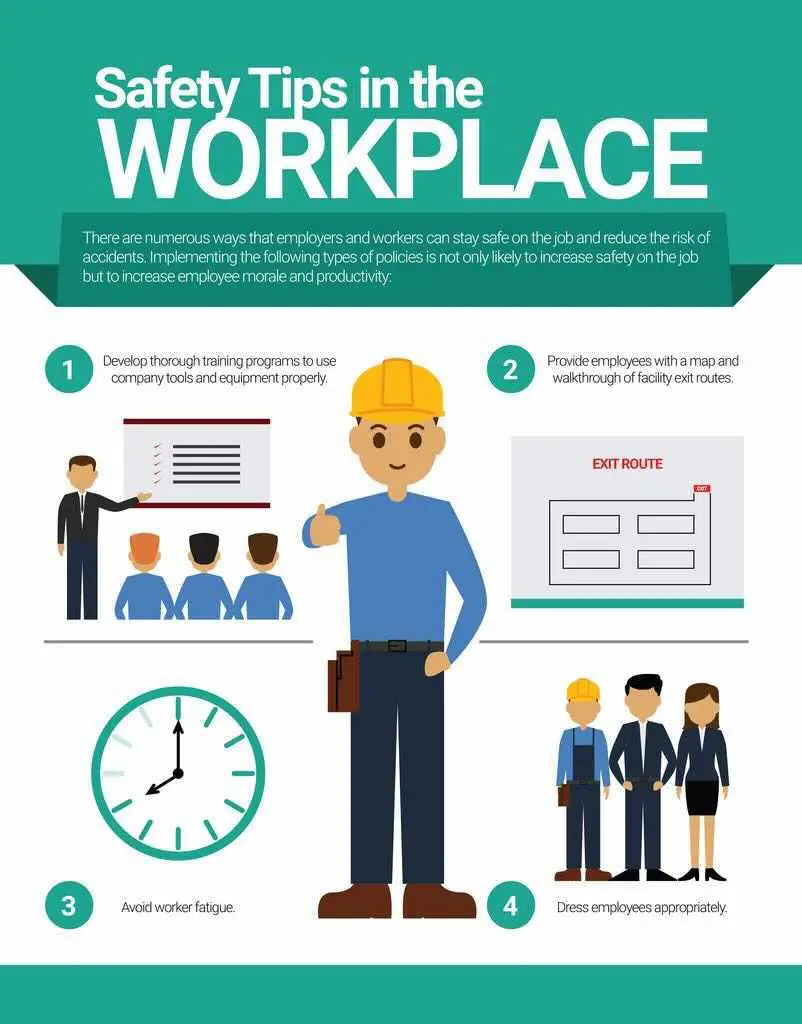 MISSOURI LABOR LAWS
Other than maintaining the safety of employees, employers should be encouraged to implement strict workplace safety standards due to liability imposed by the laws and legislation. Some labor laws applicable in Missouri include:
The Fair Labor Standards Act (FLSA) – this federal law requires that employers establish pay standards for all employees. This includes adhering to an hourly minimum wage for all business days, providing overtime pay for non-exempt workers, and accounting for unique positions that allow for tips.
The Occupational Safety and Health Act (OSHA) – OSHA is a federally mandated law that focuses on healthy and safe working conditions and environments for workers. Independent Occupational Safety inspectors look for training implemented by employers, safety equipment provided, and hazardous conditions that may jeopardize employee safety. If OSHA determines an employer is violating a set regulation, it will impose a timeframe for correction and potentially a penalty such as a fine.
The Civil Rights Act of 1964 prevents harassment of workers based on categories such as race, age, or disability. For example, if a worker is pregnant, she must be accommodated if her pregnancy affects her ability to perform her job duties for a period of time.
UNIONS IN MISSOURI
Employers should also be cognizant of labor unions. A labor union represents the interests of laborers in particular industries to ensure they are properly treated and compensated in adherence to their human rights. Some well-known Missouri unions include:
Smart Union – boosting over $20 million in assets, this union oversees sheet, metal, and HVAC workers. They have been in business for over a hundred years and are prompt about responding to union needs such as strikes.
Teamsters – a national organization, Teamsters has many unions throughout Missouri. Teamsters is well known for focusing on employee wages and benefits. As a result, they secure, on average, nearly a third more in wages for their union members compared to non-unionized employee representatives.
It is important to know that an employee need not financially contribute to a union that is attached to their line of work due to recent federal court pronouncements. This means that an employer shouldn't assume an employee doesn't have representation from a union based on their ability to pay or interest in participating in union activities.
COVID-19 AND THE WORKPLACE
The Centers for Disease Control and Prevention (CDC) continues to monitor COVID-19 despite the issuance of a vaccine. COVID risk is highly prevalent in workplace settings due to the close proximity of employees, not knowing where employees have been, and not knowing who employees have interacted with.
Employers should take precautions to decrease the risk of their employees catching the coronavirus:
Encourage employees to wear face coverings. N-95 and other specialty masks are best for preventing COVID-19.
Require employees who test positive for COVID-19 to report immediately to their boss. In turn, the employer should communicate this to other workers who were near the infected employee.
Mandate a two-week quarantine period for employees who tested positive or are feeling symptomatic.
Allow flexibility in remote work where feasible and implement social distancing.
Encourage frequent COVID-19 testing. An employer may incentivize testing by offering to pay for or subsidize testing.
Encourage employees to get the COVID vaccine. However, employers should be cautious with this as political and social views are interconnected with vaccines.
RESOURCES AVAILABLE FOR INJURED WORKERS
In the case of a workplace injury, employers should take special care to show that they are interested in the employee's recovery. However, this should not be tied or associated with accepting responsibility or issuing an apology. An employer can:
Offer a list of medical providers that the injured employee may go to and be covered under employer-issued insurance company benefits.
Refer injured employees to the Missouri Labor Division of Workers Compensation.
Refer injured employees to experienced lawyers who specialize in workplace injuries.
Inform injured employees that Missouri workers' compensation benefits and services are offered to employees who are out of work due to a workplace injury. Typical benefits include coverage of medical expenses, lost wages, and permanent disability.
Employees have legal rights to work in a safe environment. Missouri employers can prevent injuries and potential lawsuits by abiding by all requirements from government agencies, the Division of Labor Standards, the U.S. Department of Labor, the Missouri Department of Labor, and consulting with legal counsel to ensure the company abides by workplace safety standards.
If you were injured on the job or if you have any questions about health laws and workplace safety, contact our experienced lawyers at NST Law today to obtain legal advice on Missouri workplace safety. Our St. Louis Workers' Compensation Attorneys can help you recover the benefits you deserve for medical expenses, lost wages from missed work, and permanent disability.